Can a robot cow help biodiversity?
Large grazers such as cows and horses are important tools in the struggle against the biodiversity crisis, but they cannot be released just anywhere. This gave four biology students on the Bio-Entrepreneurship course the idea for a robot lawn mower that imitates how a cow grazes. And they won a competition for the best pitch to a jury of business people.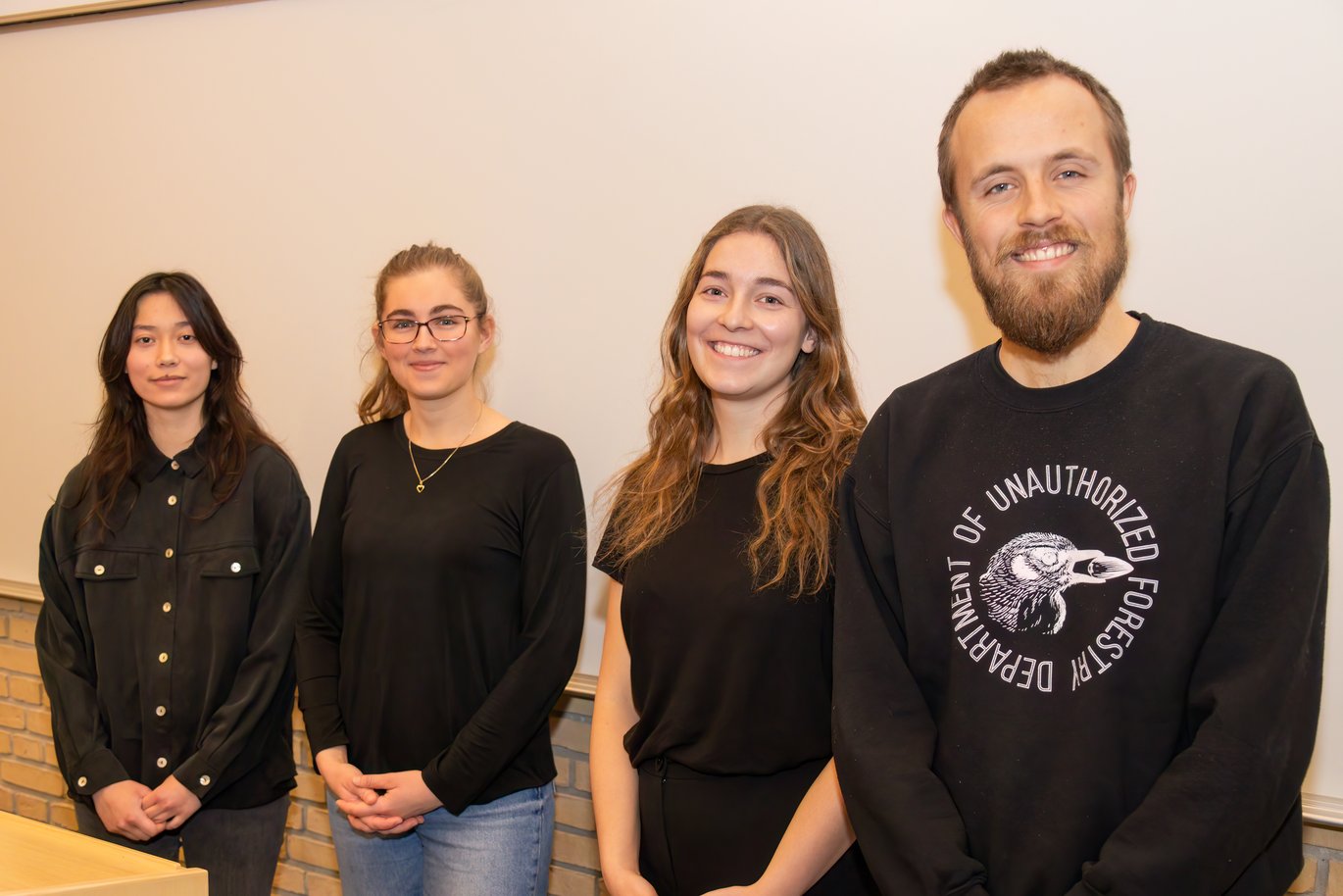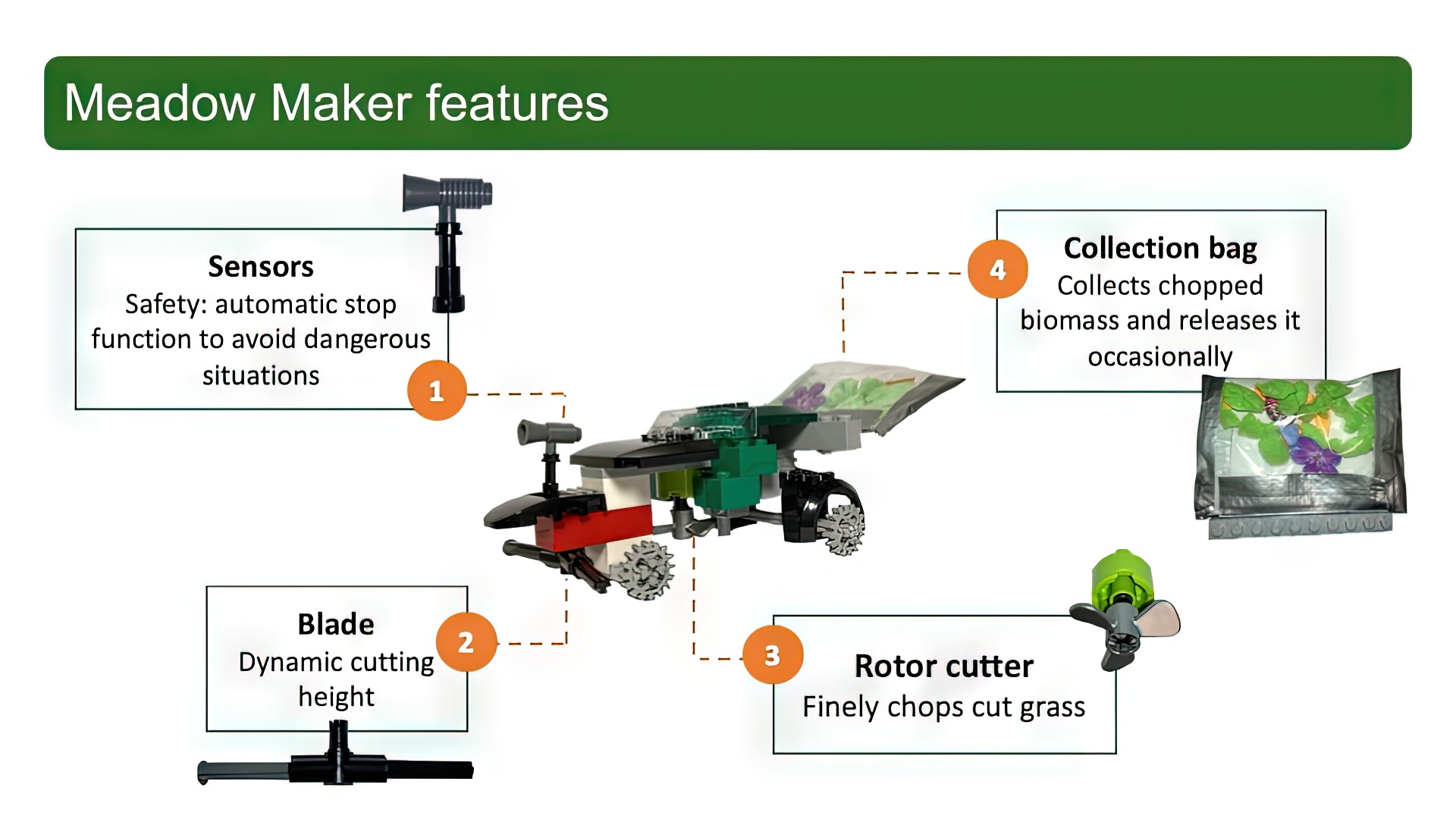 The four winners call their project Meadow Maker, because that is precisely the purpose of the large robot lawn mower they have devised.
The lawn mower will mow grass following the same pattern as a cow grazes: Randomly and at varying heights – from root height to medium height and untouched. As the robot won't be able to make cow pats, it will have to leave the grass clippings in large random piles. And what is more, it will be chugging around and grazing everyday.
Not on ordinary lawns, but on large municipal and company areas, which are otherwise cut down to the roots by tractors once or several times a year, and which are not suitable for free-roaming cows and wild horses.
At least this is what the business idea sounds like.
The four Master's students Majken Gjørup-Olesen, Magdalena Schachtl-Riess, Terese Bech Eriksen and Skjold Alsted Søndergaard have been working on the idea on the 14-week Bio-Entrepreneurship course. The course is an elective module embedded in the Biology Master's degree programme.
Female students majority
This year's course differed from previous years in that 11 of the 12 participants were women. The gender distribution has previously looked completely different.
The course culminated on 2 December with a competition between the 12 course participants to deliver the best pitch. The participants had divided into three different teams with three equally different business ideas – all of which were based on the same challenge: How can biology save the world? The teams had to develop their idea and product scientifically and as a business model.
Nutrinix, a project about removing nitrate and phosphorus pollution from the agricultural sector in watercourses by using coconut matting to capture the nutrients in artificial wetlands.
CO-2-U, a project to supply information about the carbon footprint of individual products on price labels on fruit and vegetables in supermarkets.
And then Meadow Maker, where, according to the jury, the team presented both the best idea and the best pitch: Innovative, to the point, easy to understand and well communicated.
Dreams of electrical cows
With inspiration from a classic science fiction novel from 1968 *), one could ask: Do students dream about electrical cows?
Perhaps.
"We didn't actually intend to put the idea into practice. But some of the judges approached us afterwards and said that they could put us in touch with someone who could help us develop the product. This might make us consider going forward with the project. But I'm not sure that I want to start my own business," says Terese Bech Eriksen from the winning team.
She is also enthusiastic about the Bio-Entrepreneurship course.
"It's different from the other courses we've taken. It's very much about developing personal qualities and competencies. We had to learn about ourselves and how we work together with others before we formed groups and found the issues we wanted to work with. I've learned a lot about myself, how I work in such a situation, and whether entrepreneurship is something for me. And I've learned to pitch – I've never ever had to give as many presentations as I did on this course. This is something you can take with you on the labour market," she says.
---
Further information:
Read more about the Bio-Entrepreneurship course here: https://kursuskatalog.au.dk/da/course/115190/Bio-Entrepreneurship
You can also watch a video about the course here: https://youtu.be/89MIRaKKtjw
This year's jury consisted of
Trine S. Jensen, senior project manager in the environmental cluster CLEAN, Odense
Laura-Gabriela Dobrica, Arla Foods Open Innovation
Tina Šantl-Temkiv, assistant professor at AU
Leander Hessner and Happylan Natkunarajah, who completed the course themselves in 2020 and have since founded the company Decameal I/S.
*) If you hadn't guessed it: Philip K. Dick's dystopian novel published in 1968 Do Androids Dream of Electrical Sheep? was the model for Ridley Scott's 1982 film, Blade Runner.